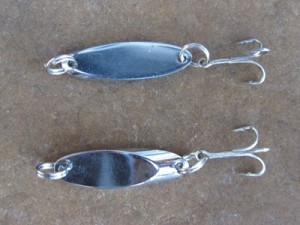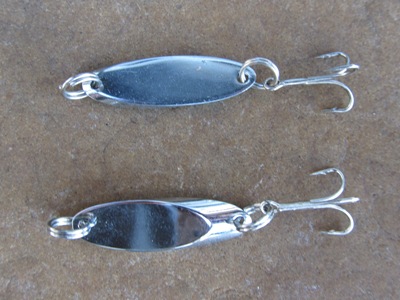 Productive lures for yellow perch include panfish jigs, curly tailed grubs, small slug baits, metal jigs, inline spinners, and others. Some lures that are effective for catching perch during warm weather can also be used for ice-fishing.
Panfish Jigs
Panfish jigs come in an array of styles ranging from simple jig hooks with soft plastic bodies to state of the art holographic models. A jig assortment for yellow perch might include curly-tailed grubs, small tube bodies, maribou jigs, shad darts, beetle-spins, and other small, flashy models.
Slug Baits
Usually associated with black bass fishing, slug baits are an overlooked lure for catching yellow perch. When these odd looking soft plastics are rigged Texas style with the barb hidden, they can be worked slowly across the bottom, even in snag-infested waters. Small slug baits usually work better for yellow perch. Popular colors include chartreuse, pumpkin, black, and blue.
Metal Slab Jigs
Small, flashy metal jigs can be effective for yellow perch, particularly when vertical jigging. An assortment of sizes and colors is helpful, especially when a variety of water conditions may be encountered.
Inline Spinners
Traditional inline spinners are another popular lure for yellow perch. These flashy lures can be casted towards structure, retrieved using a zig-zag movement, or trolled slowly in open water. Inline spinners are available in hundreds of shapes, sizes, and colors.
Lure Colors
When polled about lure colors, anglers often cite a few time-proven tips. One suggestion is to use bright colors such white, chartreuse, bright yellow in dirty water. For clear water, anglers sometimes report success with drab colors that better match local prey. Some anglers prefer black or other dark colors at twilight or after dark.
Related Information