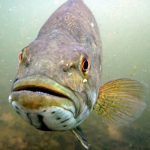 Through the National Fish Habitat Partnership program (NFHP), the U.S. Fish and Wildlife Service (USFWS) and its partners are providing more than $18 million to support 83 fish habitat conservation projects in 34 states.
USFWS is providing $4 million this year, with nongovernmental organizations, state resource agencies, and other partners contributing an additional $14 million.
USFWS biologists and partners will work on funded projects in priority areas to restore stream banks, remove man-made barriers to fish passage, reduce erosion from farm and ranch lands, and conduct studies to identify conservation needs for fish and their habitats.
Anticipated benefits include more robust fish populations, better fishing and healthier waterways. For example, projects this year include a dam removal in Indiana to benefit smallmouth bass, the addition of large wood material to a stream in Maine to benefit wild brook trout, a dam removal in California to benefit endangered salmon, and restoration of degraded estuary habitat to benefit native fish in Hawaii.
The National Fish Habitat Partnership program is a national investment strategy to maximize the impact of limited fish habitat conservation dollars on the ground. Under the program, federal, state, tribal and privately raised funds are leveraged through regional Fish Habitat Partnerships to address the nation's biggest fish habitat challenges.
The partnership brings the collective expertise of federal, state and non-governmental organizations to identify and prioritize conservation work to get the greatest benefit for fish and other aquatic resources and ultimately for the American people.
For information about the National Fish Habitat Partnership and the full list of projects, visit www.fishhabitat.org
source: U.S. Fish and Wildlife Service