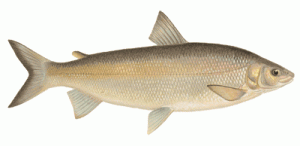 Located in the northwest corner of Lake Michigan, Green Bay Wisconsin is gaining a reputation for its unique winter lake whitefish fishing opportunities.
Whitefish spend the warmer months in deep, cold water where they are difficult to catch with hook and line. During the winter, whitefish move into shallower waters of the bay where they can caught with ice fishing tackle.
Prior to the 2017 whitefish ice fishing season, the Wisconsin Department of Natural Resources (WDNR) sought input from Green Bay ice fishing guides and stakeholders on implementation of new harvest reporting requirements for guides and other management topics.
"The popularity of winter whitefish angling has grown incredibly over the past 10 years and when conditions are good we see thousands of people out on the ice – both serious anglers and those who are interested in the novelty or just giving it a try," Hansen said. "We know that there are many successful guide businesses with clients from throughout the Upper Midwest. To keep this vibrant fishery and its associated economic benefits going strong, we are seeking more information about harvest levels and fishing effort."
What's not known, Hansen said, is the extent to which heavy fishing pressure on Green Bay may be affecting overall population levels at a time when a large percentage of the population is schooling and easily accessible under the ice.
WDNR is considering options to achieve sustainable management of the Lake Michigan whitefish fishery.
"We will be introducing new reporting forms requiring guided trip information for the Wisconsin waters of Green Bay during the ice fishing season," Hansen said. "This information is very important to our management of several species of fish in Green Bay and will greatly supplement information gathered through our standard creel survey program."
For more information, visit dnr.wi.gov.
source: Wisconsin Department of Natural Resources
Related Information