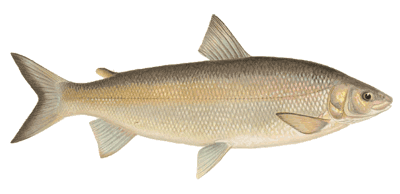 The lake whitefish is a member of the Salmonidae family of fish, which includes salmon, trout, char, and grayling. Historically an important commercial species in the Great Lakes, whitefish were not an important recreational species until recently.
Lake whitefish are a schooling species that are found in cool, deep water during much of the year. During spring thru fall, lake whitefish are caught by jigging near the bottom in deep water. Whitefish can be a challenge to catch due to their light bite.
Lake whitefish are also caught during the winter by ice fishermen. Unlike warm season fishing, much of the ice fishing action for whitefish occurs in relatively shallow water.
Related Information