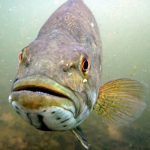 Following nearly a decade of poor recruitment due to disease affecting young-of-the-year, the smallmouth bass populations in the Susquehanna and lower Juniata rivers are showing signs of improvement, according to information released by the Pennsylvania Fish and Boat Commission (PFBC).
Surveys conducted from 2013-2016 reveal increasing numbers of adult smallmouth bass compared to severely reduced numbers collected from 2005-2012.
Decreased prevalence of disease in young-of-the-year smallmouth bass, along with the implementation of mandatory catch-and-release regulations enacted in 2011, have resulted in better recruitment of young bass to the adult populations.
However, bacterial infections causing sores and lesions continue to be observed in young-of-the-year smallmouth bass, prompting a renewed call by PFBC Executive Director John Arway to list the river as impaired.
Other abnormal effects such as melanistic black spots and intersex conditions in adult bass, along with unprecedented nuisance algae blooms continue to plague the smallmouth fishery.
"Although we are cautiously optimistic about the population numbers we have observed over the last four years, our sampling is still finding young-of-the-year smallmouth bass displaying clinical signs of disease," Arway said. "We continue to urge the U.S. Environmental Protection Agency (EPA) to list the river as impaired in its final review of the 2016 Integrated Water Quality Monitoring and Assessment Report submitted by the Department of Environmental Protection (DEP)."
The DEP submits an updated report every two years to EPA Region 3 for approval. Adding the Susquehanna to the list as a "high priority" impaired water would trigger a two-year timeline requiring DEP to develop a comprehensive plan to identify the causes and sources of pollution and put a plan together to clean up the river consistent with the goals of the federal Clean Water Act.
DEP recommended against listing the river as impaired in the 2012, 2014 and 2016 reports. EPA is expected to review the 2016 report and issue a ruling by early next year, either accepting the report or requiring changes. Recently, EPA Region 3 exercised its authority and added 28 stream and river segments to West Virginia's impaired waters list.
Last year, DEP and the PFBC released findings from a multi-year study (CADDIS) indicating that the most likely causes for the population decline of smallmouth bass in the Susquehanna River are endocrine-disrupting compounds and herbicides; and pathogens and parasites.
Arway says the next step should be to focus on identifying the sources of the endocrine-disrupting compounds and herbicides, which would be required with an impairment designation.
source: Pennsylvania Fish and Boat Commission