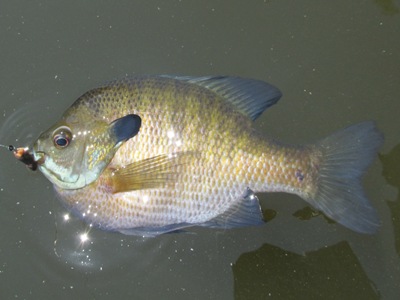 Catching bluegill sunfish is a great way to get started in freshwater fishing. Bluegill are one of the most common freshwater fish in North America and are enjoyable to fish for. Although many anglers release their catch, these small panfish are among the best tasting of all freshwater fish. Bluegills are also known a bream sunfish.
Bluegill Sunfish Tackle
Ultralight spinning rods and reels are the most popular and versatile outfits for catching these colorful sunfish. In some areas, bluegill may also be caught using traditional cane poles, which require no reel.
For novice anglers, nothing beats a bobber and live bait for catching bluegill or other sunfish species. Nightcrawlers are widely available, inexpensive and easy to use as bait. Several other baits are popular, each having their special applications.
Anglers have several choices for hooks. Most beginners choose live bait or long shank hooks. Circle hooks are another option for catching sunfish and other panfish. Circle hooks require a different technique than other designs, but offer several advantages over traditional hook styles. Regardless of the type of hook chosen, size is important. Most sunfish have very small mouths and require small hook sizes.
Although fishing with bait is usually the most productive, anglers sometimes use artificial lures for catching these panfish. Among the most effective are small jigs in 1/16 or 1/32 oz. sizes. Some anglers prefer simple shad darts or marabou jigs, while others prefer jig heads equipped with soft plastic bodies. Bright colored curly tailed grub bodies or tube bodies are by far the most popular.
Tips for Catching Bluegill Sunfish
Bluegill are attracted to bright colors and flashy objects.
During spring thru fall, bluegill and other sunfish orient to overhanging tree limbs, lily pads, or other aquatic vegetation.
When fishing live baits, cast as close to structure as possible. If a fish is present, strikes usually come immediately.
In some areas, bluegill feed in mild currents such as stream-pond junctions, tidal creeks or rivers. Look for eddies or calm water adjacent to moving flows of water.
Kayaks make excellent boats for catching sunfish. These small watercraft allow anglers to explore shallow back waters where trophy bluegill are sometimes found.
When deep water access is available, bluegills are sometimes found at various depths. Experiment by vertical jigging or letting a free-lined bait sink slowly.