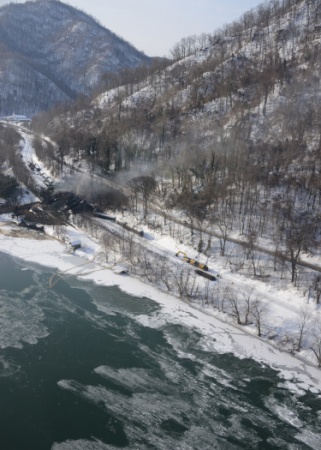 photo credit: United States Coast Guard
An unknown quantity of Bakken crude oil recently spilled into the Kanawha River near following a train derailment and fire.
On Febrary 15th, a 109-car CSX train traveling from North Dakota to Yorktown, Va., derailed near Mount Carbon area of Fayette County. The train, carrying Bakken crude oil, derailed at approximately 1:20 p.m.
The Coast Guard, Department of Transportation, Environmental Protection Agency, CSX, the West Virginia Departments of Environmental Protection and Military Affairs and Public Safety, including the National Guard, West Virginia Department of Environmental Protection, and local agencies established a unified command in response to the incident.
West Virginia Governor Earl Ray Tomblin issued a State of Emergency for Kanawha and Fayette counties in response to the disaster which affected residents of both counties.
Response crews deployed environmental protective and monitoring measures on land, air, and in the nearby Kanawha River and Armstrong Creek. Approximately 500 feet of containment boom were deployed as a precautionary measure to limit potential impact on the environment.
On-scene assessments determined that 27 cars derailed and 19 were involved in fires. No rail cars entered the Kanawha River during the incident. The train consisted of two locomotives and 109 rail cars (107 tank cars and two buffer cars). It was traveling from North Dakota to Yorktown, Virginia.
One of West Virginia's most important waterways, the Kanawha River is a popular destination for freshwater fishing, kayaking, canoeing, and siteseeing. The river is home to smallmouth bass, musky, walleye, sauger, channel catfish, flathead catfish, sunfish, suckers, and other species.
sources: U.S. Department of Homeland Security, Government of West Virginia