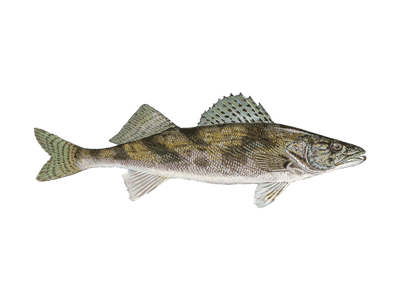 Sauger are members of the perch family, one of the largest families of fishes in North America.  Other members of this family include yellow perch, walleye, and darters.
Sauger are sometimes mistaken for walleye but can be distinguished by their spotted dorsal fins. Sauger are also known as sand pike, ground pike, and spotfin pike.
Sauger are native to four major watersheds of North America; the Mississippi River, Missouri River, Great Lakes, and Hudson Bay.
Unlike most species of freshwater fish, sauger have a reputation for biting well in bad weather. They are sometimes caught during cold autumn rains or winter snowstorms.
Sauger are commonly caught using small jigs, sometimes with a minnow added. Anglers also fish with in-line spinners, small spoons, crankbaits, and soft plastic lures.
The saugeye is a hatchery-produced hybrid of walleye females and sauger males.
Related Information