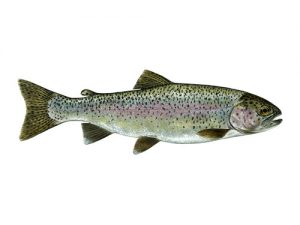 In Oklahoma, trout fisheries provide numerous fishing opportunities during the colder months of the year.
The Oklahoma Department of Wildlife Conservation (ODWC) operates two year-round trout fisheries in the Lower Mountain Fork River below Broken Bow dam and in the Lower Illinois River below Tenkiller Ferry Dam. Trout are normally stocked in those areas every week or two.
In November, ODWC began stocking trout in other designated trout fishing areas. Those areas are Perry CCC/Lake Perry Park, Robbers Cave, Blue River, Lake Watonga, Medicine Creek and Lake Carl Etling. Weather issues will delay the first trout stockings at Perry CCC/Lake Perry Park and Lake Watonga.
Trout fishing is also available from Dec. 1 to Feb. 29, 2020, at two Close to Home Fishing locations in major urban areas: Oklahoma City's Dolese Youth Park Pond and Jenks' Veterans Pond.
Trout anglers must carry a resident or nonresident fishing license while fishing. In addition, trout anglers at Dolese Youth Park Pond must have an Oklahoma City fishing permit, and municipal permits may be required at other seasonal sites.
Rainbow trout and brown trout are introduced species to Oklahoma. They thrive in colder waters and make excellent table fare. Using ultralight fishing gear with 4- to 6-pound test line and small hooks can lead to some thrilling action. For other tips, go to www.wildlifedepartment.com/fishing/trout-information.
Trout fishing regulations, including daily and size limits, restricted areas and site maps, can be found in the current Oklahoma Hunting and Fishing Regulations Guide found online at wildlifedepartment.com, on the Go Outdoors Oklahoma free mobile app for Apple or Android devices, or in print across the state wherever hunting and fishing licenses are sold.
source: Oklahoma Department of Wildlife Conservation