The Louisiana Department of Wildlife and Fisheries (LDWF) Inland Fisheries Hatchery Program, in cooperation with the USFWS Natchitoches National Fish Hatchery, the City of Shreveport's Cross Lake Fish Hatchery, and Rockefeller Refuge, stocked over 8 million fish into 59 waterbodies around the State of Louisiana during 2018.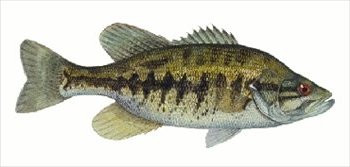 Species stocked include Florida largemouth bass, northern largemouth bass, hybrid striped bass, channel catfish, bluegill, redear, black crappie, threadfin shad, golden shiners, and triploid grass carp.
These fish species are stocked to enhance sport fishing through improving the genetics of largemouth bass by stocking the Florida largemouth bass, enhancing waterbodies where natural reproduction is limited or non-existent, improving the forage base available for sportfish, to, or to improve sport fishing access.
The Florida subspecies of largemouth bass grow larger than Louisiana's native Northern largemouth bass, so they are stocked with the goal of increasing an angler's chance of catching a larger than average largemouth bass.
2018 stocking totals by species:
Species | Number Released
Florida largemouth bass 7,339,000
Bluegill 412,000
Redear 117,000
Northern largemouth bass 58,000
Hybrid striped bass 42,000
Channel catfish 27,000
Triploid grass carp 13,000
Threadfin shad 7,000
Black crappie 15,000
Golden shiners 5,000
Total 8,035,000
In addition to the fish releases in the listing above, the Red River Waterway Commission (RRWC) with stocking 90,000 advanced Florida largemouth bass fingerlings purchased for the Red River by the RRWC. These fingerlings were stocked into the five pools of the Red River to enhance the largemouth bass populations in the Red River.
LDWF's fish hatcheries primarily stock fish in the spring and early summer, then again in the fall, when fingerlings are large enough to be handled and water temperatures are conducive to fish stocking.
The LDWF Inland Fisheries section is responsible for the monitoring and management of the state's freshwater resources.
For more information, visit the Louisiana Department of Wildlife and Fisheries website (www.wlf.la.gov).
source: Louisiana Department of Wildlife and Fisheries