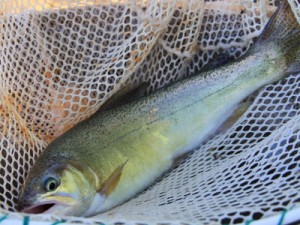 Biologists and wildlife managers from Arizona Game and Fish (AGF) and Mora National Fish Hatchery recently transported Gila trout, a rare trout species native to Arizona and New Mexico, to the Mora National Fish Hatchery in New Mexico.
Workers transported 79 Gila trout from Ash Creek and 111 from Frye Creek. The rescue was undertaken in response to the the 48,000-acre Frye fire.
The trout were in peril as summer rains are expected to send toxic ash flows down waterways, According to AGF.
Gila trout, listed as threatened under the Endangered Species Act, are one of two native trout species in Arizona, along with the Apache trout.
In 2012, the nearly 300,000-acre Whitewater Baldy Fire – the largest fire in the history of New Mexico – burned through nearly half of the existing Gila trout streams and fish were eliminated from six of the eight streams that were within the burn area.
Gila trout were evacuated from three streams following the fire, including Spruce Creek. Those fish from Spruce Creek were transported to Ash Creek, where last week they once again were salvaged.
The South Diamond Creek lineage of Gila trout were introduced into Frye Creek beginning in 2009, and this wild population was the first to open to catch-and-release angling for Gila trout in recent Arizona history.
All Gila trout rescued last week are being held at Mora National Fish Hatchery. The fish from Frye Creek will be used to supplement the South Diamond brood stock.
The fish from Ash Creek will be held at the hatchery until an alternative stream is identified, or if conditions in the creek are deemed suitable for the fish following post-monsoon evaluations.
For more information on Gila trout, visit: www.azgfd.com.
source: Arizona Game and Fish