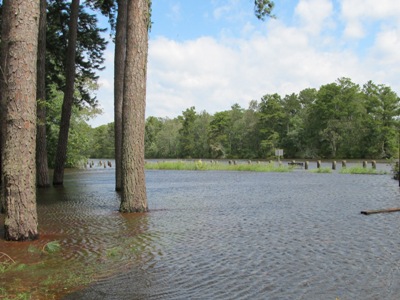 Along the Mid Atlantic and as far north as Canada, anglers are waiting to see how Hurricane Irene will affect freshwater fishing. In some areas, the storm may actually benefit freshwater fishing while other areas are sure to suffer long term effects.
In most areas, freshwater fishing ground to a halt as residents worked to clear communities and restore infrastructure. Some areas lost roads, bridges, launch facilities and other structure.
In some southern areas, rainfall from Hurricane Irene ended drought conditions that were severely stressing small creeks, rivers and freshwater impoundments.
The rain not only brought water levels back up to normal, but also flushed away excess algae and contaminants. In tidal rivers and creeks, the influx of freshwater lowered salinity levels, which had pushed fish back into inaccessible swamps.
In New Jersey, New York and the New England states, the situation was quite different. As the recovery process unfolded, reports began surfacing of residents finding dead trout and other fish species on lawns, streets and even in flooded basements.
With record setting flash flooding affecting brooks, streams and rivers throughout New England, local fish populations are likely to be hit hard.
Several U.S. Fish and Wildlife fish hatcheries in New England and the Mid Atlantic sustained damage during the storm including facilities in Vermont, Massachusetts, Pennsylvania and Virginia. Initial reports from the Northeast Fishery Center and hatcheries throughout the region indicate a variety of storm-related issues including loss of power and domestic water supply, significant flooding, moderate to severe damage to roads and culverts, downed trees and power lines.