Brook Trout and the Writing Life is a memoir by author Craig Nova. In the work, the writer intermingles tales of fishing, family and writing in beautiful detail. Revealing, bitter-sweet, often humorous, his work will appeal to anglers, fathers, daughters, writers, nature enthusiasts and anyone with a passion for life.
Throughout the book, the sport of fishing is explored, including its impacts on the author's life. In the background are the rivers of Vermont and other places, filled with brook trout and other beautiful fish.
Craig Nova started Brook Trout and the Writing Life as a letter to his children, but it soon became a credo, a belief in the way an American novelist can live in the modern age.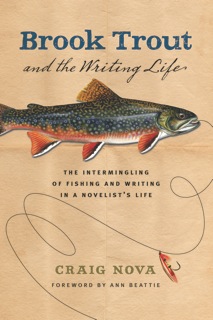 From the foreword by Ann Beattie: "Craig Nova, one of the most distinctive voices and visionaries in American fiction, works close to the bone, but never forgets to see things from afar."
Craig Nova is the award-winning author of twelve novels, including The Good Son, Cruisers, The Congressman's Daughter, Trombone, and most recently, The Informer, published by Shaye Areheart Books. His writing has appeared in Esquire, The Paris Review, The New York Times Magazine, and Men's Journal, among other publications.
He has received an Award in Literature from the American Academy and Institute of Arts and Letters and is a recipient of a Guggenheim Fellowship. In 2005 he was named Class of 1949 Distinguished Professor in the Humanities at the University of North Carolina, Greensboro.