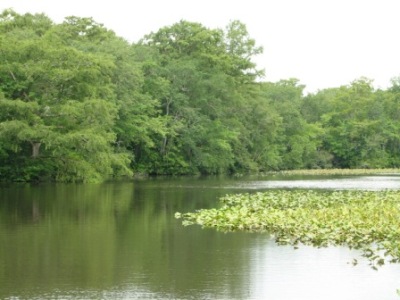 In Maryland, fishing for largemouth bass is a popular sport. These heavy bodied freshwater fish are found in lakes, reservoirs, ponds and rivers throughout the state.
On the Eastern Shore, much of the best largemouth bass fishing is found in rivers such as the Choptank, Chicamacomico, Nanticoke, Wicomico, and Pocomoke.
Although no two rivers are alike, most of these waterways share a few common features that are important to bass fishing.
Eastern Shore rivers are known for their dark colored water. The unusual color is created by tannic acid, a natural substance that is produced by bald cypress trees. Lily pads are by far the most common aquatic plant in these rivers. Lily pads provide shade, oxygen, and cover for river fish and other inhabitants.
In addition to largemouth bass, several species of freshwater and anadromous fish inhabit these unique environments. Among them are crappie, sunfish, striped bass, white perch, yellow perch, channel catfish, blue catfish, northern snakeheads, herring, carp, gar, and chain pickerel.
Tackle, techniques and strategies for catching largemouth bass in these rivers varies with an array of factors including season, time of day, water temperatures, tides, water clarity, sunlight, barometric pressure and other factors.
As with nearly all bass fishing, structure is a critical aspect of river bass life cycles. In Eastern Shore rivers, critical structure includes:
– lily pads
– downed trees
– overhanging brush
– manmade structures (docks, piers, etc.)
– freshwater springs
– small creeks
– channel edges
– flats, shallows
Lure selection is important for success in these rivers. Popular lures include several classic choices as well as some of the newer technology. Common choices in these rivers include:
– buzz baits
– surface plugs
– crank baits (firetiger, shad and other patterns)
– jerk baits
– Texas rig worms
Fly fishermen also find success on these rivers, choosing lures such as:
– streamers
– minnows
– topwater poppers
– amphibian patterns
Fishing these rivers can be accomplished in a number of ways. All rivers have good access including boat ramps, public piers or bulkheads and in some cases, state parks. The upper reaches of rivers and their tributary creeks are suitable for kayak and canoe fishing. The larger stretches of these rivers are best fished with bass boats or shallow draft fishing boats.
Fishing with a local largemouth bass fishing guide is an excellent way to explore these rivers. Guides fish often and know the best locations and times to target largemouth in these rivers. To fish the Choptank, Nanticoke, Wicomico and Pocomoke rivers, Capt. Bruce Wootten is an experienced fishing guide.
Related Information